The Salt Lake-area Dining Scene has Witnessed Awesome Growth over the Past Decade, both in Quality and Diversity.

This page provides our latest list to the Top American Cuisine in Salt Lake City.








Welcome to the Taste of Salt Lake TM, our official online edition.


Salt Lake Restaurants are vibrant pieces of what makes our city memorable. They're an introduction to community culture for our Utah visitors, and a place where our locals can celebrate milestones or simply enjoy an evening out.






Salt Lake City's Top Restaurants Serving American Cuisine






The Roof Restaurant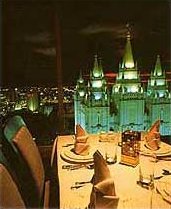 The only thing that measures up to the Roof's spectacular views? The outstanding food. One of Downtown's truly elegant dinner choices, the Roof tantalizes you with a seemingly endless array of superbly prepared entrees and irresistible desserts. If you've never associated the work "gourmet" with "buffet" you're in for an evening that promises to be as enlightening as it is memorable.


Fiddler's Elbow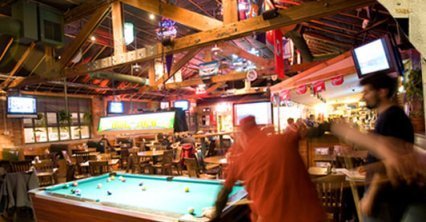 Craving comfort food? Locals have turned Fiddlers into one popular restaurant/bar. This American roadhouse serves what you're looking for in a casual, comfortable atmosphere. Try the Pulled Pork Nachos, Voted Outstanding! Pool tables, dart boards, City Weekly's "Best Comfort Food," 32 of Utah's best microbrews on tap. 10' by 6' high definition screen plus 24 other TVs. A Salt Lake Wi-Fi Hot Spot. Must be over 21 to get in.
Fiddler's Elbow in Sugar House - Must Be Over 21 To Get In.
1063 1/2 East 2100 South - 801.463.9393
4 Miles from Downtown, Travel Time: 10 - 15 minutes
Hours: Mon - Thurs, 11am - 11pm. - Fri 11am - 12am - Sat 9am - 12am, - Sundays 9am - 10pm


The Garden Restaurant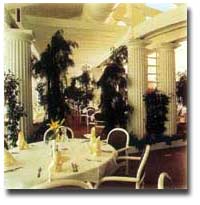 The Garden is a natural choice when you want to be informally formal. One look at the delightful and varied menu, prepared by our expert team of chefs, and you'll know you've discovered a Garden of delights. You'll dine in a comfortable, plaza-like atmosphere, surrounded by Mediterranean columns and fountains accented with live flowers and trees. In the warmer months, a retractable glass roof lends a delightful alfresco-esque ambience to your dining experience.


The Lion House Restaurant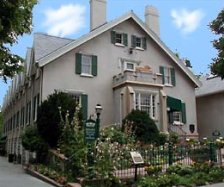 Once the home of Mormon leader and Salt Lake City founder Brigham young, the Lion House retains a home-spun, friendly feeling. The Lion House offers home-cooked recipes, lovingly passed down from generation to generation. Aside from a tantalizing selection of entrees and side dishes, guests will be treated to what is undeniably the city's finest fresh-made dessert assortment.


Nauvoo Cafe
The new Nauvoo Cafe is located on the corner of South Temple and Main Street in the Joseph Smith Memorial Building, street level. For great food and gifts to go, the cafe will have fast service take-out and limited seating with a great view of the Main Street Plaza and Temple Square. Parking validated with purchase. Enjoy!


The Garden Cafe @ The Grand America Hotel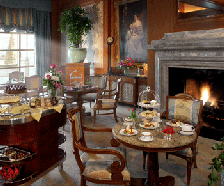 Old-world charm, international influences and spacious gardens create an elegant and inviting ambiance, while the sumptuous dishes appease even the most discriminating palate. The Garden Cafe's American Seasonal Cuisine is perfect for any occasion, featuring light sauces that are bold in flavor. Menu favorites include the freshest produce, game, seafood and fish - all prepared with simple flair and presented in a contemporary manner.


Salt Stone Restaurant at the Salt Lake Marriott Downtown City Center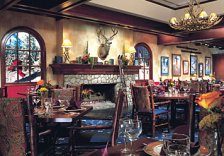 This cozy American restaurant features a ski lodge-like ambiance in the heart of downtown Salt Lake City. Experience entrees crafted with locally sourced ingredients and specials including grilled filet mignon, prime rib, sauteed trout, chicken pot pie, apple pie-a-la mode. Signature dessert is the Wasatch, a pastry shell filled with white-chocolate mousse and topped with chocolate sauce. Breakfast, lunch, dinner daily.
75 South West Temple, Marriott Downtown City Center


Franck's - French Inspired American Cuisine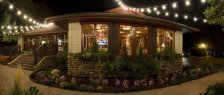 Franck's creates mouthwatering and intricate French inspired American dishes for this small, intimate restaurant, Franck's. Worthy of the four stars from Salt Lake Tribune, the highest possible rating, Franck's food is true culinary excellence.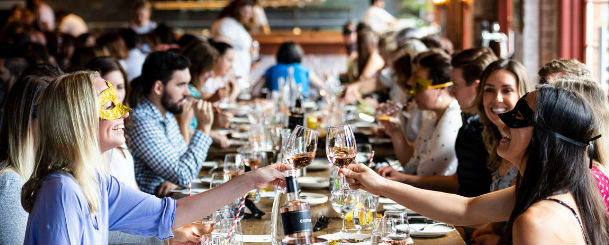 Site Features / Our Menu




American

Barbecue

Brew Pubs

Cajun

Canyon Dining

Chinese

Coffee Houses

Cosmopolitan

Fine Dining

French Cuisine

Indian

Italian

Japanese / Sushi Bars

Mexican

Micro Breweries

Middle Eastern

Seafood

Steakhouses

Sushi

Thai

Vegan

Vietnamese

Salt Lake City Pizza

Best Breakfast Spots in Salt Lake City

Best Soup in Salt Lake City

Kid Friendly

Downtown Area Restaurants

Salt Lake Valley Restaurants

Sandy Utah Restaurants

New Restaurants in Salt Lake City

Who Makes the Best Burgers in Salt Lake City

The Best Philly Cheese Steaks in Salt Lake City

Upcoming Food Festivals in Salt Lake City

Salt Lake City Bars

Salt Lake City Caterers

Park City Restaurants

Park City Bars

Visit Park City

Salt Lake Tourist & Visitor Center

Farmers Markets in Salt Lake City

Visit Salt Lake City

Skiing Utah

Utah Vacations

Salt Lake City Hotels

By Email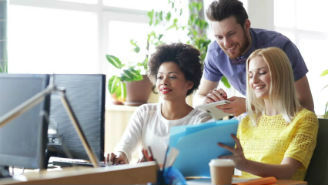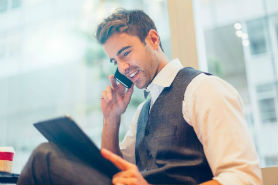 Welcome to the Taste of Salt Lake

Proud to bring you our up-to-date list of the Top American Cuisine throughout Salt Lake City

Many Utah Restaurants are chef-owned, assuring that you'll find wonderful places to dine in every neighborhood throughout the Salt Lake Valley. Our local favorites, hidden gems along with restaurant deals and news on upcoming food festivals and events are included.




Views





Taste of Salt Lake TM, 2021 | Salt Lake City Restaurants.org
Salt Lake City, Utah 84106
© Copyright 2001 - 2021. All rights reserved.